We believe in the importance of leadership and the power of leadership development. In all of our programs, we offer opportunities for our students to develop their own leadership. In our camps, we recruit experienced students to become Junior Leaders and to help out with a handful of exercises that we teach to our newer players. 
In our after school programs, we invite middle and high school chess players, especially our former students, to become assistant coaches. 
Many of our coaches grew up Learning in our program and now they are paid coaches! And many more have been Jr. Leaders and have greatly benefited from the leadership and confidence gained from leading a group of young chess learners. 
If your child is interested in applying as a Jr. Leader for a camp, please first register for that camp and after you register, have your budding Jr. Leader fill out this application. 
---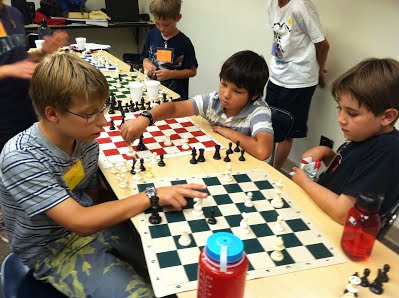 Junior Leader Working with Student to solve a chess maze.